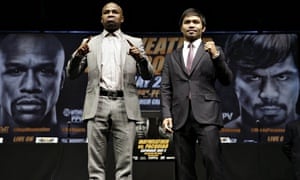 Muhammad Ali's daughter says that the former heavyweight champion is rooting for Manny Pacquiao in the forthcoming fight against Floyd Mayweather.
Rasheda Ali told TMZ Sports: "My dad is Team Pacquiao all the way." She added: "My dad really likes Manny. He's a huge fan of his.
"He knows Manny's a great fighter but it's more about what he does outside the ring. He's such a charitable person."
The welterweight world championship unification bout, scheduled for 2 May in Las Vegas, will be the richest ever with a purse upwards of $250m (£170m). The winner will be presented with a million-dollar emerald belt.
Ali will not be attending but Rasheda said he would be watching it live at home. "There's no question he's going to order it. It takes my dad way back to when he was fighting," she said.
Pacquiao and Ali have been friends for years, she added, with the Filipino boxer and politician a guest at the older man's 70th birthday party in 2012. "My dad stood for things," she said. "Mayweather … I don't think there's a comparison."