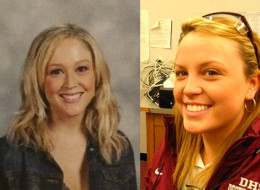 Two teachers at the same Louisiana high school have been charged in the sex abuse of the same male student, according to police.
Shelley Dufresne, 32, and Rachel Respess, 24, both teach at Destrehan High School in St. Charles Parish. They are each charged with one count of carnal knowledge of a juvenile, according to the St. Charles Herald Guide.
WDSU quoted an unnamed source who implied that the victim was involved in a threesome with the teachers. That detail and others were confirmed by Kenner police in booking reports released Thursday.
Investigators confirmed Wednesday that the encounter allegedly took place at Respess' apartment after a Destrehan football game Sept. 12, and that all three were together at the residence until early morning hours of the next day.
Dufresne, who has taught at the school for 10 years, was arrested Tuesday and released from St. Charles Parish jail on $200,000 bond later that night. According to WGNO, the mother of three is under house arrest, and is not allowed to leave her home except for continued intensive mental health treatment, doctors' appointments, and church.
Respass, who is in her second year teaching at the school, turned herself in on Wednesday.
Police began their investigation last Friday after educators learned that a male student had been "bragging to other students that he was having a sexual relationship with teachers," according to a St. Charles Sheriff's Office report.
WDSU reports that the teachers were put on paid leave last Friday after the allegations came to light.
Parents aren't taking the allegations lightly.
"Unfortunately as a parent of a son that attends Destrehan High School, it's a little overwhelming at times, and my son is taking it difficult as well, but I think the whole school is taking it difficultly," Destrehan High School parent Antonio Morales told WGNO. "When anything happens here at Destrehan, all of Destrehan suffers."