One of Michael Vick's former dogs died this week.
Hector the pit bull was two when he was rescued out of the NFL player's Bad Newz Kennels.
He then got to live with a wonderful family — Clara and Roo Yori — who did all they could to give this dog the great life he so deserved, after his hellish beginning.
Hector even got to work for a while as a therapy dog, while also galavanting around the country with his human parents, proving over and over again that even pit bulls who have suffered through the worst abuse can thrive, and live safely, in loving homes.
I recently asked Roo what were the best parts of having Hector in his life. He said it was a very long list.
One thing he noted was that Hector was the ultimate adventure buddy.
Another, he said, was "knowing that by letting Hector have the chance to be himself, we helped inspire change for other dogs to get their chance as well."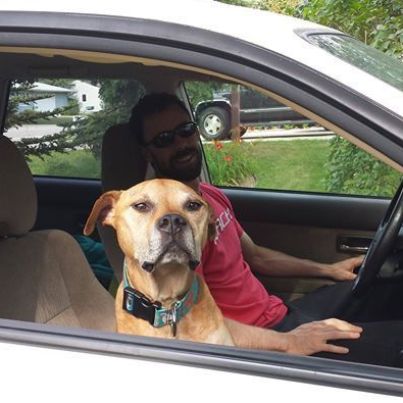 Hector and Roo Yori, off on an adventure.
One place where pit bulls are not getting their chance is at PetSmart.
PetSmart does a lot of great things for rescue animals. But the company also has a troublingly incongruous policy of discriminating against blocky-headed dogs.
Pit bulls are allowed into the store on-leash; they are able to participate in adoption fairs. But these dogs are banned from PetSmart doggie day camps, which are off-leash playgroups meant to give dogs some exercise and socialization, so they are tired out and happy when they go home at the end of the day.
There isn't a universal definition of what constitutes a pit bull — some people maintain it's only dogs who are all or part American pit bull terrier; the more commonly held definition these days is that it's any dog with certain physical traits, like that blocky head and a short coat, regardless of their genetic makeup.
So which dogs does PetSmart's policy apply to, exactly? Here's the list on the company website, of which dogs are excluded:
Pit Bull Terriers, American Pit Bull Terriers, American Staffordshire Terriers, Staffordshire Terriers, American Bulldogs, or mixed breeds that have the appearance or characteristics of one of these breeds.
This could just be the former lawyer in me speaking, but that "appearance or characteristics" part of the statement seems hard to interpret.
If a dog has slightly pit bull-y cheeks, can they come? Or how about if a dog has one drop of Staffordshire terrier blood in her? And in that case, given how bad people are at visually identifying dogs' breeds, how would you know?
And since rules that regulate dogs by breed have been shown to be ineffective in increasing public safety — here's the American Veterinary Medical Association's recent statement against them; they are just the latest group to come out against breed-based discrimination — it's hard to immediately see any good reason for keeping these dogs out.
So last week, I spent a lot of time emailing back and forth with the company's spokesperson, Michelle Friedman, trying to nail down which dogs, exactly, are banned, and why.
"The policy applies to dogs that are 'primarily' a bully breed, which means 50% or more if they are a mixed breed," Friedman told me by email, declining to elaborate. "We always strive to provide great service to our pet parents, but we must also do our part to protect the safety of our associates as well as our customers and their pets. This policy reflects our effort to balance these interests."
Here's one of the many problems here, which highlights just how arbitrary and silly this policy is: No one, not even the company spokesperson, can look at that policy and know what it means for my dog Murray, who some people think is part pit, others think is mostly pointer, and my husband adjudges to be primarily beagle (remind me to make an eye doctor appointment for my husband, will you?):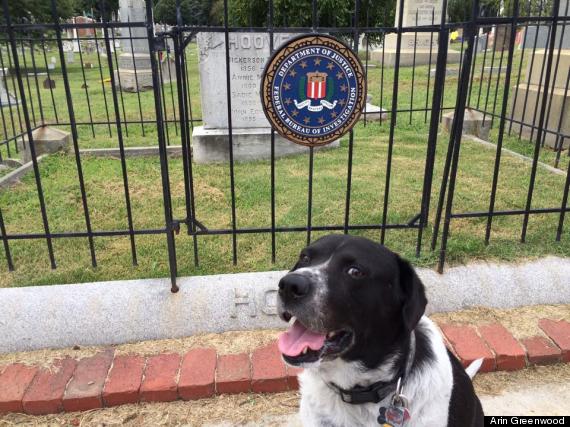 Rebecca Corry, an actress, comedian and award-winning pit bull advocate, posted a searing message about PetSmart's policy to her website:
"TO DISCRIMINATE IS WRONG," she began:
In fact discrimination in any way is one of the lowest forms of thinking. What's next PetSmartypants? Should women be seen and not heard? Are your employees allowed to eat in the same break room and drink from communal water fountains regardless of the color of their skin, sexuality or religion? Or do you only discriminate against anything that "has the appearance or characteristics of any Pit Bull type dog?" We want clarification on where you draw the discrimination line. Millions of Pit Bull Terriers die every year in this land of the free and home of the brave country of ours due to this kind of human ignorance and hate. Shame on you and your first world country business run by mentally stunted middle aged white men who should know better.
Other pit owners have told me, too, that they are now boycotting the company.
"Being born a certain breed doesn't automatically make a dog aggressive, just like me being born a girl doesn't make me bad at working on cars," said Sunshine Dixon. "I have four dogs at home and how is it fair to my sweet pit that I leave him at home while the other three get to go play and make friends?"
Dixon's pit, it's worth noting, has passed an "AKC Canine Good Citizen" test — meaning he's been tested, and found to have an especially delightful demeanor.
"Our other dogs, although incredibly sweet, are too anxious to pass," Dixon said.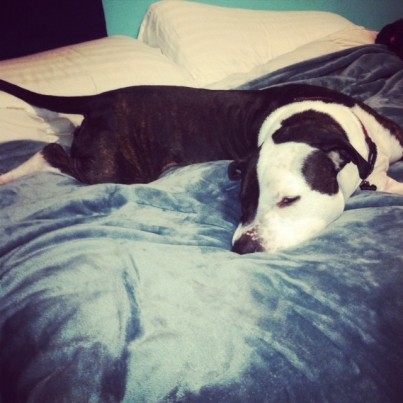 This is Sunshine Dixon's pit bull, Heath.
But what does it matter if a dog like Murray isn't allowed at a PetSmart play group? He's really not into hanging around with other dogs, anyway, to tell you the truth.
It matters because PetSmart's policy helps reinforce the incorrect belief that pit bulls are different from other dogs. That they are dangerous and can't be trusted, just because of the shape of their head. That they don't deserve to be treated as well as other dogs.
This belief has consequences.
Tom Junod, writing in Esquire, estimated that 2,000-3,000 pit bulls in shelters across the U.S. are euthanized every single day.
That is a lot of healthy, friendly dogs, who have done nothing wrong other than be born with a wide cranium, who are dying because we as a society haven't yet figured out how to do right by the animals we've bred — overbred, these statistics would suggest — to be our companions.
In this country, where pet owners will spend an estimated $58.5 billion this year tending to our animals, we love them so much, that strikes me as being very, very wrong.
Ironically, PetSmart's nonprofit division — PetSmart Charities, which describes itself as having the mission of finding "a lifelong, loving home for every pet" — recently released a report cheering the increase in pet adoptions but lamenting the barriers that stand in the way to reducing euthanasia.
This is a rather chilling excerpt from the report's intro:
The public continues to vastly underestimate the number of pets who are euthanized annually in the United States. An estimated 8 million pets enter U.S. shelters every year and only 4 million ever find homes. Cats, kittens, Chihuahuas and bully breeds are particularly at risk for euthanasia.
It sure seems like one great and easy way to decrease these animals' euthanasia rates would be to stop sending the message that something is wrong with the very dogs who are being euthanized.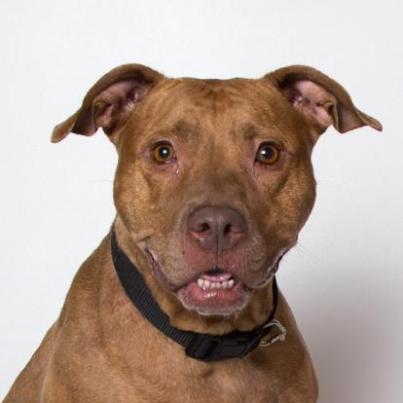 This is Marla. She's a great dog who's up for adoption through the Fairfax County Animal Shelter.
In July, South Dakota became the most recent state to do away with laws that ban or otherwise restrict the ownership of pit bulls. This has been cheered as a move that will decrease the number of homeless animals.
Voters in Aurora, Colorado, will decide this November if they want to scrap their city's pit bull ban.
Hector the pit bull's family participated in a campaign encouraging folks with pits to post photos of themselves online, with the tag #coloradogs.
Post by Hector the Pit Bull.
Here are just a couple of the other photos that have been put up with that hashtag:
These photos are powerful because — despite companies like PetSmart encouraging folks to think of pits as being different, and more sinister than other dogs — they show just now
normal
these dogs are.
The data shows that, too. The website Vet Street finds that pits are among the top three most popular dogs in more than half the states.
PetSmart should change its policy because it's the right thing to do.
But even if that's not the motivating factor, at least we can rest assured they'lleventually change anyway, because otherwise they will simply be losing too many customers — like Jessica Thomas, who brought home a Staffordshire bull terrier this past June, and was told shortly thereafter that Madison wasn't welcome at PetSmart day care.
"We were told that Maddie would be kept in a kennel and not allowed to play with the other dogs, due to her being a pit bull," said Thomas. "Maddie is a licensed therapy dog and the idea that she is vicious is comical. Recently she was attacked by a boxer and she didn't even attempt to defend herself.
"So we are choosing to spend our money at Petco, and the other small pet stores who welcome all breeds."
UPDATE, October 30, 2014: Roo Yori has now set up a fund in Hector's name. There's a $7 suggested donation; that's $1 for every year of Hector's life he lived in freedom.