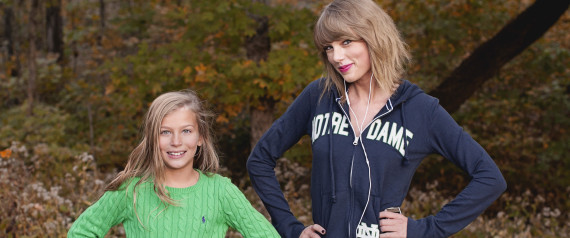 Taylor Swift is the kind of superstar who surprises fans at their bridal showers, writesencouraging messages on their Instagram photos, gives them money to purchase Chipotle on their birthdays and invites them into her home to eat homemade cookies and listen to her latest album (before everyone else).
And in her latest attempt to become St. Taylor — or at least the friendliest celebrity out there — Swift crashed a young fan's photo shoot while she was jogging in a Nashville area park.
Swift was just working on her fitness in the great outdoors when she jogged her way into a fan, who was in the middle of a photo shoot with photographer Sarah Bailey.
The 24-year-old stopped and took the time not only to chat with the girl, but to pose for a couple of photos. And luckily, she was camera-ready: Swift sported a Notre Dame hoodie — her younger brother Austin's school– and a full face of makeup. (Of course Taylor Swift jogs wearing red lipstick and mascara — after all, this is how she looks after her ModelFIT workouts in New York.)