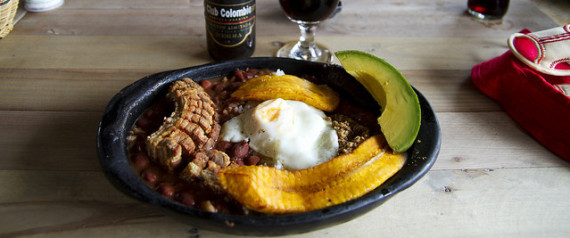 Colombia is a country of many misconceptions.
Abroad, the South American nation has suffered from age-old stereotypes and misidentification – seriously, it's Colombia, NOT Columbia – but none of it has ever stopped its people from being known as some of the happiest on earth (if you don't believe us, here's proof).
What makes Colombia unique goes beyond the passion and joy of its soccer team, itsmagnificent biodiversity, the beauty of its women and even the folkloric sounds of Vallenato and Cumbia heard across the country. In fact, its true beauty comes from the warmth of its people.
Whether you visit Medellín and its "eternal spring," the highland climate of Bogotá or the tropical paradise found in the historic port city of Cartagena – you're bound to find a friendly face and a hot plate of the region's specialty.
Colombian cuisine is as diverse as the country's 32 departments, and it's one thing tourists can't get enough of. So, here are 23 food reasons why Colombians know what's good.
They know nothing warms a chilly day like a hearty soup.

Flickr: Morten

They've found the best way to eat corn.

Flickr: Meldarus

They know that going to a bakery should feel a lot like going to the candy store.

Flickr: cristinavalencia

They know the true meaning of a filling meal.

Flickr: xmascarol

They've discovered the perfect dish for a beach meal.

Flickr: Fabiola Duerig

They've perfected the beef patty, a.k.a a delicious mini meal conveniently stuffed in a crunchy envelope.

Flickr: eddymilfort

They know food must never be wasted.

Flickr/Eddy Milfort

They know that the best way to enjoy avocado is not by making guacamole.

Flickr/ruurmo

They've created their own type of hot sauce.

Flickr: mauricio giraldo

Guaroooo

Flickr: mario

They're masters of comfort food.

Flickr nicole tarazona

They know that if you can't decide between pork belly or pork ribs – for breakfast – you don't have to.

Flickr: familiabv

They've figured out how to make medicine out of a spoon full of sugar – sort of.

Flickr: Alpha

They take dessert very seriously – and very sweet.

Flickr: William Neuheisel

Seriously, their side dish game is unrivaled.

Flickr: nicole tarazona

They know how to drink coffee. Duh.

GUILLERMO LEGARIA via Getty Images

They've managed to make blood sausage more than an acquired taste.

Flickr: Alexander Torrenegra

They've figured out how to make hot chocolate BETTER.

Flickr: Bruno Sanchez-Andrade

They have fruits you can't find anywhere else.

Flickr: xmascarol

Chicharrones. Enough said.

Flickr:

remolacha.net

They've made a national cocktail out of beer and soda.

Flickr: Maqroll

They're not afraid to eat pork straight from the source.

Flickr: Sr. Pacman

Fruit + sweet makes for a perfectly balanced dessert

Flickr: Yassef Briceño García