The first account to expose the secrets of ISIS and who runs it.. Who is al-Baghdadi? Have you seen his picture? The names of his council? What are his plans? Coming soon…" read the first tweet from @wikibaghdady on Dec. 10.
ISIS and its infamous leader Abu Bakr al-Baghdadi are now under even more scrutiny after it captured a string of cities in Iraq and closed in on the capital of Baghdad earlier this month. Amid fears that the country may disintegrate without outside help, the U.S. is sending military advisors to help reverse the militants' advance.
While the world scrambles to understand ISIS's military effectiveness and shocking brutality, @wikibaghdady has kept on tweeting fascinating allegations about the group's murky alliances and dubious motives.
Various theories have been posited as to who is behind the account, still active as of Jun. 13. Whether a disillusioned insider, a defector to rival jihadi group Jabhat al-Nusra (which gets very sympathetic treatment), or a group of people trying to undermine ISIS, the account has nearly 40,000 followers. Analyst Hassan Hassan told the Daily Beast that at least some of the revelations appear to be accurate, while others "should be taken with a pinch of salt."
Here are the most stunning allegations from the account's nearly one thousand tweets.
ISIS's Mysterious Leader Is a Fake Iraq released this photo of Abu Bakr al-Baghdadi on Jan. 29, 2014. (AP Photo/Iraqi Interior Ministry, File)
Abu Bakr al-Baghdadi's name is not the only phony thing about him, according to @wikibaghdady. The account claims ISIS's mysterious leader also faked a PhD, is not from Baghdad (as his nom de guerre implies) but the northern city of Samarra, and his real name is Ibrahim Awwad Ibrahim.
Contrary to al-Baghdadi's image as a fearless mastermind, the posts describe the infamous chief as scrambling out of obscurity to lead the Islamic State of Iraq (ISI), the predecessor of ISIS, after the group's top two leaders were killed in 2010. "The news was a surprise to everyone!" @wikibaghdady says about al-Baghdadi's nomination for the leadership by Haji Bakr, a former Baathist party member and colonel in Saddam Hussein's army who joined ISI. According to @wikibaghadi, al-Baghdadi "worried that he wouldn't be able to handle all this responsibility," but Haji Bakr set him up with a tight circle of loyalists and a new military strategy.
And He's In The Pocket Of The Baathists
Al-Baghdadi's mentor Haji Bakr first joined ISI after 2006, promptly grew a religious-looking beard, devised a military strategy, and installed colleagues from his time as an army colonel under Saddam Hussein in top leadership positions, @wikibaghdady says. As ISI's membership was filled up by former Baathist military officers, the group moved away from global jihadi networks like al-Qaeda, New York-based political risk consultancy bureau the Soufan Group explains. Al Monitor adds that ISI's tactics also shifted under al-Baghdadi's leadership from attention-grabbing terrorist attacks to a more conventional military approach of capturing and holding strategic territory.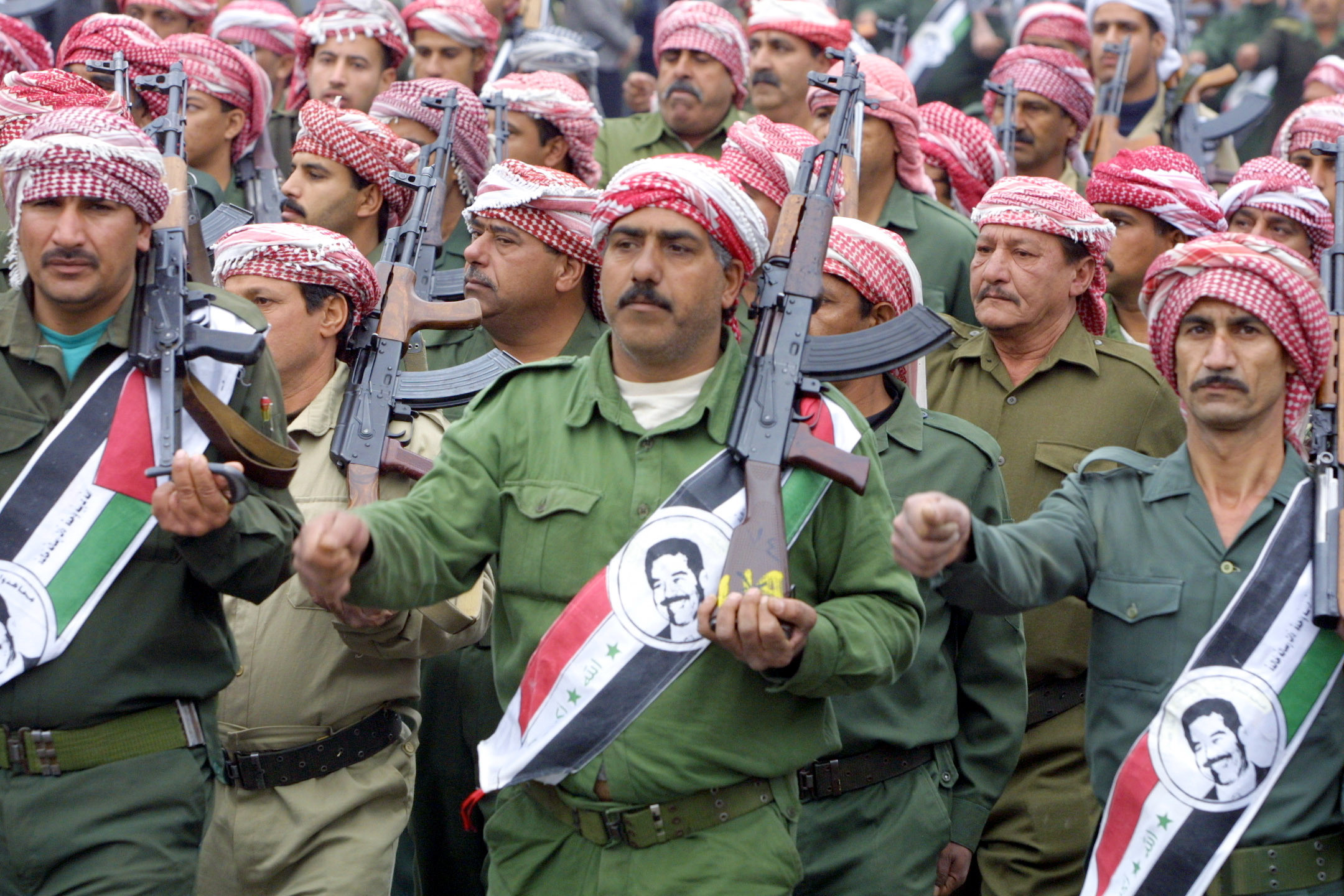 Baath party members parade in Baghdad, Feb. 8, 2002. (RAMZI HAIDAR/AFP/Getty Images).
The @wikibaghdady account clearly wants to discredit the ISIS leader by casting suspicion on his group's Islamist credentials, perhaps adding fuel to the theory that the account is run by rivals competing for the same support base. There is no doubt that pragmatic alliances with various Sunni militant groups have helped ISIS with crucial military expertise, as well as greater legitimacy with a population often wary of al-Qaeda-linked groupsand their foreign fighters. But the complexities of the political, religious and tribal allegiances in Iraq today defy the simple portrait of a Baathist puppet master controlling hapless jihadists.
Where The Money's Coming From
ISIS is "among the wealthiest terrorist groups on the planet," an American counterterrorism official told the New York Times this week. According to a local governor, the militants potted a gold mine earlier in June by looting millions of dollars from banks in Iraqi cities they captured. The Daily Beast reports that the group has also raked in cash by fundraising from "armchair jihadists" — wealthy individuals in countries like Saudi Arabia, Kuwait and Qatar who back militants overseas, sometimes with the tacit support of their governments.
The @wikibaghdady account focuses on another funding stream that could make ISIS increasingly wealthy, though unpopular — extorting civilians in areas under its control. The group's protection racket in the Iraqi city of Mosul netted $8 million each month, according to one 2013 estimate. In addition, @wikibaghdady claims ISIS has spent several years seizing the property of religious minorities, taking over state resources, and threatening to blow up businesses that didn't pay monthly dues. The account alleges that the ISIS's ability to pay recruits is a major attraction of the group.
American Condemnation Is A Badge Of Pride Iraq released this photo of al-Golani on Dec. 25, 2013. (AP Photo/Iraqi Government, File)
The U.S. designated al-Baghdadi a global terrorist in 2011, offering $10 million for information leading to his capture. According to @wikibaghdady, the designation is considered a status symbol by the group. When a fellow jihadi was added to the terror list in 2012, al-Baghdadi's professional jealousy precipitated a crisis in the jihadist movement, the account alleges.
The feud dates from the start of the Syrian revolution. Troubled that many of his fighters left Iraq to take up arms in Syria, al-Baghdadi set up a a new jihadist group in Syria called Jabhat al-Nusra and he forbade Iraqis to join it.
But al-Baghdadi felt threatened when Nusra leader Abu Mohammed al-Golani began to outshine him, @wikibaghdady says, adding that ISIS leaders became terrified when the U.S. added Jabhat al-Nusra to its terror list and al-Golani to the most wanted list in Syria.
Why They Really Got Thrown Out Of Al-Qaeda
According to @wikibaghdady, it was this power struggle and al-Baghdadi's insubordination to al-Qaeda's top leaders that got them thrown out of the global jihadist network in February 2014.
A year earlier, al-Baghdadi decided he wanted to unify Jabhat al-Nusra and the Islamic State of Iraq into a formal group under his command. When Jabhat al-Nusra refused to take part, he went ahead and announced the merger anyway in April that year. Al-Qaeda leader Ayman al-Zawahiri tried to mediate, but al-Baghdadi paid no notice, @wikibaghdady says. Soon, al-Zawahiri had had enough, disavowed the group, and full-blown war broke out between ISIS and Jabhat al-Nusra. The infighting was disastrous for opposition forces in Syria, who claim that ISIS was deliberately encouraged by Assad's regime, and that the group continues to cooperate with government forces fighting opposition brigades.
The Baathists Are Back
As 2013 ended, al-Baghdadi was keen to return to Iraq from his hideout in Syria, @wikibaghdady says. In January 2014, his group captured the strategic Iraqi city of Fallujah. In June, ISIS pushed deeper inside Iraq. It captured large swathes of territory in the center and south of the country and got a hold of border posts with Syria and Jordan, giving the group effective control over a large part of territoryacross Syria and Iraq. A gunman holds his weapon in Fallujah, Jan. 21, 2014 photo. (AP Photo).
From the beginning, the group has fought in loose coalition with several other Sunni factions, including a Baathist-Sufi militia called the Army of the Men of the Naqshbandi Order. Previously both a rival and a sponsor of ISIS, the Naqshabandi Army is headed by another former Saddam Hussein lieutenant, Izzat al-Duri. As the groups advanced towards Baghdad in early June, @wikibaghdady claimed ISIS and the Naqshabandi Army struck a deal in which al-Duri's group took charge of the the military strategy, and ISIS would allow the Baathists to take over the Iraqi government if Baghdad fell.
The alliance appeared to fray at the weekend, when ISIS fighters and al-Duri's militants turned on each other in deadly clashes. "New stuff coming soon!" @wikibaghdady's latest tweet promised a few weeks ago. Nearly 40,000 people are waiting for an update.