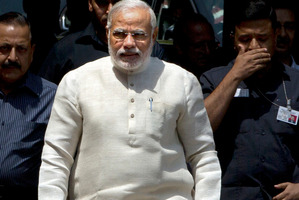 An Indian minister from Prime Minister Narendra Modi's ruling party says rape is "sometimes right, sometimes wrong", amid mounting public anger over sex attacks against women.
Babulal Gaur, the home ministerof central Madhya Pradesh state who is responsible for law and order, said rapes could be investigated as crimes only if they were reported to the police.
The minister also defended the government of northern Uttar Pradesh state, which has been the target of global outrage since the gang-rape and murder of two girls in the village of Katra Shahadatganj last week.
"This is a social crime which depends on men and women. Sometimes it's right, sometimes it's wrong," Gaur, of the ruling Bharatiya Janata Party (BJP), told reporters.
"Nothing can be done until there is a complaint," he said.