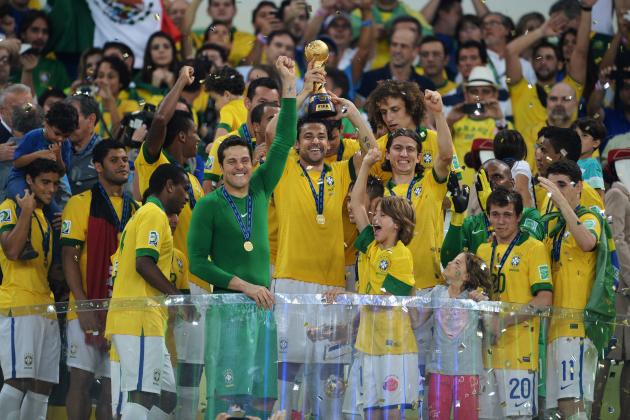 Football leagues all over Europe have entered their final weeks of competition, meaning fans and punters alike are starting to turn their eyes toward 2014's main event: The World Cup in Brazil.
Are Chile the underdogs worth backing this summer? Should Spain by avoided after three straight tournament triumphs? Will Cristiano Ronaldo beat Lionel Messi in the goalscoring charts?
Below we take a look at some of the offers that may tempt you into a flutter.
World Cup winners:
Here's the list of the five current favourites to win the 2014 World Cup:
World Cup Winners – Latest odds

| | |
| --- | --- |
| Brazil | 3/1 |
| Argentina | 9/2 |
| Germany | 11/2 |
| Spain | 13/2 |
| Belgium | 14/1 |
Exclusive – Join Bet365 Today, and receive up to £200 Free.
As hosts and winners of the Confederations Cup, Brazil are the obvious favourites to hoist the trophy. The team is stacked with talent, including arguably the top defensive pairing formed by Thiago Silva and Dante. They traditionally perform well at World Cups (record holders with five wins) and, crucially, will have the support of their vocal home crowd.
A lack of competitive matches played in the last two years could hurt them, however, having played almost exclusively in friendlies. At 3/1, the return on a Brazilian win also doesn't seem worth a large investment.
Belgium round out the top five at 14/1, but their lack of experience at major tournaments makes them a dangerous team to rely on. The Red Devils largely went untested for much of the qualifiers and lost back-to-back matches against Colombia and Japan in preparation for the World Cup.
Eden Hazard and company would make for an excellent pick in a potential upset over a more experienced squad like Germany, but to ask such a young team to consistently perform on their way to the final would be too much, even at 14/1 odds.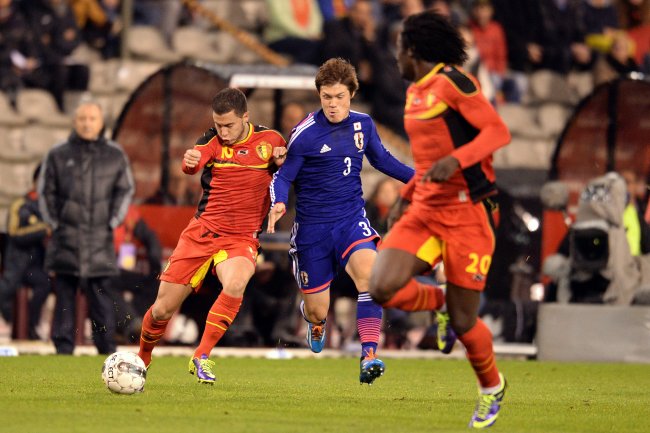 Germany (11/2) and Spain (13/2) both seem like solid projections for squads that have consistently performed well at major tournaments in previous years. While Argentina (9/2) and Brazil will have the advantage of playing on their home continent, such an advantage is lessened by the fact plenty of the top Brazilian and Argentinian stars plied their trade in Europe in 2014.
Spain are the defending champions, and for all of the talent Germany seem to possess, it's surprising to see the Spanish team carry slightly worse odds than the Mannschaft.
With trophies in three consecutive international tournaments (two European Championships and a World Cup), Spain represent the best odds in the top five.
Exclusive – Join Bet365 Today, and receive up to £200 Free.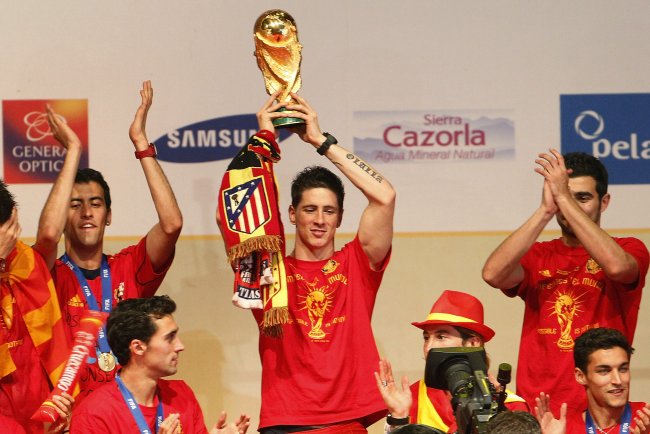 Daniel Sastre Huertas/Getty Images
Strong outsiders include Uruguay (22/1), who will be playing close to home and will field one of the Premier League's most in-form players in Luis Suarez. The team performed admirably in 2010 with a very similar squad, and with players like Gaston Ramirez and Edinson Cavani keen to impress, a similar performance could be on the books.
Vidal has blossomed into one of the best box-to-box midfielders in all of football, and you don't just replace a player like that. Chile could still cause a shock by eliminating The Netherlands from the group stages, but they seem unlikely to be able to get past the likes of Brazil and Germany without the services of Vidal.
Anyone looking for a truly big haul may want to consider Switzerland, at 100/1.FIFA ranks the squad as the eighth best team in the world, and while plenty of fans will claim that ranking to be undeserved, they're ignoring the fact the squad has been consistently strong in the last two years.
Ottmar Hitzfeld guided his team through an undefeated qualifying campaign, and the coaching wizard has a lot of talented players at his disposal, including Stephan Lichtsteiner, Gokhan Inler, Valon Behrami, Xherdan Shaqiri, Valentin Stocker and Josip Drmic.
The Swiss clearly aren't favoured to win the World Cup, but at 100/1, they're being criminally underrated when compared to sides that have achieved far less in the last two years, most notably Russia (66/1).
At 28/1, bookmakers seem to have a surprising amount of confidence in England, particularly compared to the expectations of their own fans.
The Three Lions have seen the emergence of several top talents like Daniel Sturridge, Raheem Sterling and Adam Lallana, who are more than capable of capitalising on the defensive weakness of Uruguay. The pace at Roy Hodgson's disposal will also likely trouble the ageing legs of Italy, who have a good record at major tournaments but boast injury (Giuseppe Rossi) and consistency (Mario Balotelli) concerns.
The United States were given 100/1 odds, very generous for a team that has never made it past the quarter-finals. Aron Johannsson and Julian Green are two of the most exciting talents the USAMNT coaches have had the chance to work with, but the 2014 World Cup will most likely come to soon for the both of them.
Golden Boot
Betting odds for World Cup Top Scorer

| | | |
| --- | --- | --- |
| Player | Country | Odds |
| Lionel Messi | Argentina | 15/2 |
| Neymar | Brazil | 12/1 |
| Cristiano Ronaldo | Portugal | 12/1 |
| Sergio Aguero | Argentina | 16/1 |
| Luis Suarez | Uruguay | 18/1 |
Outside of the top five, which includes all of the regular names, the best value can be found in Diego Costa (16/1), who has had a phenomenal season with Atletico Madrid, scoring 35 total goals.
Expected to lead the front line of the Spanish squad, Costa should expect a steady feed of scoring opportunities with the likes of Andres Iniesta and Xavi playing behind him.
At 33/1, Romelu Lukaku is one pick punters should look to avoid. The youngster is only Belgium's starting striker by default, with Christian Benteke missing the World Cup due to injury.
Lukaku only scored two goals during qualifiers (both against Croatia) and with the Red Devils' reliance on runs inside from wingers Eden Hazard and Kevin de Bruyne, Lukaku will mainly be tasked with holding the ball and supplying lay-offs to the likes of Marouane Fellaini and Steven Defour.
The youngster is a fantastic talent, but he's too raw to play a meaningful role at such a large tournament and doesn't play in a system that will give him plenty of looks at goal. Even at 33/1, Lukaku should be avoided.
Wayne Rooney leads the charge for England, with odds of 50/1. Daniel Sturridge follows at 66/1, and following his break-out season with Liverpool, he could be worth a look for punters feeling lucky.
Exclusive – Join Bet365 Today, and receive up to £200 Free.