Seven humanitarian and human rights organisations call for international community to 'stand up for the people of Syria'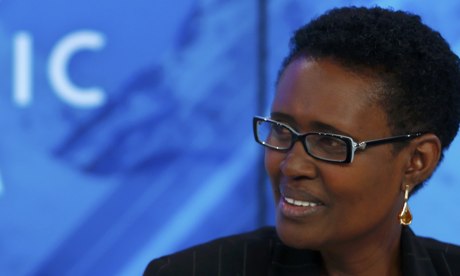 Winnie Byanyima, executive director of Oxfam International, said: 'Whatever comes out of the talks, strides must be made to alleviate the humanitarian suffering of ordinary Syrians – this cannot be used as a political bargaining chip.'  Photograph: Denis Balibouse/Reuters
The heads of seven of the world's largest humanitarian and human rights organisation who are working on the crisis in Syria have called on the international community to step up efforts to provide humanitarian aid.
"The Syrian government is meeting for the first time with representatives from the Syrian opposition in what will hopefully be the first steps towards a sustainable peace," the statement, signed by Amnesty International, Human Rights Watch, Oxfam International, Save the Children, World Vision, CARE USA and Mercy Corps, read.
"Meanwhile millions of Syrians are enduring a second winter displaced from their homes. Half of the country is now dependent on humanitarian aid and millions of people still cannot access life-saving assistance. In some areas disease and starvation are rife. The current situation is unacceptable and defies the basic norms of a civilized world.
"Agreeing a negotiated peace is going to be difficult; however, committing to ensuring humanitarian aid reaches all those in need shouldn't be.
"As a coalition of some of the world's largest humanitarian and human rights organisations we call on the international community to stand up for the people of Syria who are enduring the worst humanitarian crisis of our time.
"The reputation of the United Nations and the member states of the security council are at risk unless they can show the resolve and responsibility needed to end the crisis and until that time take steps to ensure humanitarian assistance quickly reaches those who need it".
Speaking at the close of Wednesday's talks, Oxfam's Shaheen Chughtai said: "It took a monumental diplomatic effort to make today's conference happen. Grandstanding aside, the Montreux conference could mark the first step on a long, rocky road to the resolution of this devastating crisis.
"Little – if anything – will have changed on the ground today for ordinary Syrians who are suffering however. The women, men and children struggling to survive the conflict need to see a breakthrough – and fast. A halt to the violence and allowing people to fully access humanitarian aid must be prioritised.
"Oxfam is concerned that civil society organisations and women have, so far, been sidelined. Many representatives of Syrian civil society including women came to Montreux today – but were denied a place around the table. That must change as the talks progress if they are to deliver a sustainable political solution. The voice of the peaceful, yet marginalised majority, must be heard.
"Additionally, we urge the international community not to undermine the negotiations and to agree a complete halt to the arms and ammunition transfers into Syria, which are fuelling the conflict."
Oxfam's executive director, Winnie Byanyima, earlier said that the negotiations must deliver a clear timeline for resolving the conflict. "Whatever comes out of the talks, strides must be made to alleviate the humanitarian suffering of ordinary Syrians," she said. "This cannot be used as a political bargaining chip."
"All those people in desperate need, including in besieged towns and communities, must be able to access life-saving aid – the government and opposition must agree this as an absolute priority."
Please donate generously to the Syria Emergency Appeal: www.justgiving.com/SyriaEmergencyAppeal