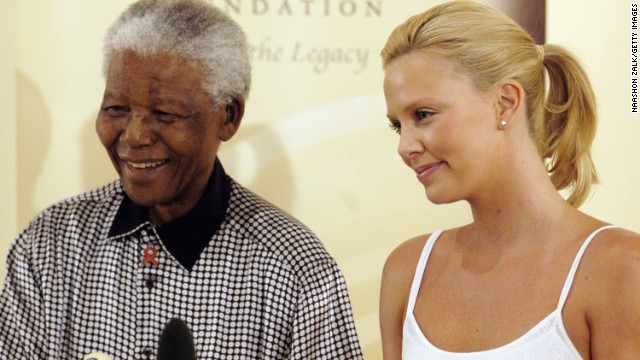 Hollywood has long stood with Nelson Mandela in his fight against apartheid and his support of human rights. After the announcement of his death on Thursday, stars shared their condolences.
Harvey Weinstein, whose company is releasing the biopic "Mandela: Long Walk to Freedom" in the United States this month, hailed Mandela in a statement.
"One of the privileges of making movies is having the opportunity to immortalize those who have made a profound impact on humanity," he said. "We count ourselves unspeakably fortunate to have been immersed in Nelson Mandela's story and legacy. It's been an honor to have been granted such proximity to a man who will go down as one of history's greatest freedom fighters and advocates for justice. I have had the privilege of spending time with President Mandela and I can say his sense of humor was as great as his optimism. We are deeply saddened by his loss; our hearts go out to his family and the entire South African nation."
The film premiered in London as news of his death spread on Thursday night.
Actor Denzel Washington said he was "honored and humbled to call Nelson Mandela a friend of our entire family.
He will continue to live through all of us as a symbol of hope, faith and strength."
Actor Forest Whitaker expressed deep sadness "by the loss of one of the world's greatest souls."
"Nelson Mandela was a man who unified the world with his convictions and grace," Whitaker said. "He cultivated human dignity while moving a nation from the shackles of apartheid to reconciliation. He defended tirelessly and with passion human rights and, through love, nurtured humanity's hopes and dreams. Madiba was an elevated being who taught us that from forgiveness can spring new life, a new country, and a new world. I walk on the strength of his ideals and I am inspired by his courage and convictions to always believe in the light that exists in all of us."
Other statements received by CNN include one from singer Dionne Warwick.
"Having known him for many years and privileged to serve as one of his Ambassadors, it is with great respect that I send my heartfelt condolence to his family and South Africa!! ……….He amazingly lived what I was taught as a child and that being, We Human Beings have truly been put on this earth to be of service to one another and through this comes the Joy, Peace, and Harmony we ALL desire…………..Rest in Peace Madiba"
Singer Alicia Keys said: "I'm deeply saddened by the profound loss of Nelson Mandela. He was more than just a man, but a king of peace and a beacon of hope for anyone suffering or oppressed. His courageous life touched the hearts of millions. He was perhaps our generation's greatest example of how you can rise above oppression and use your struggles to unite the world in peace. All of us stand on the shoulders of his profound accomplishments in raising awareness against HIV/AIDS and issues around anti-apartheid, equality, freedom and human rights. As I performed at the Mandela Day concert in honor of his 91st birthday, I was in awe of a man whose soul was filled with an effortless and rare love that only comes once in a lifetime. He was a gentle man with a beautiful smile, and deep eyes that always saw the best in humanity. His legacy lives on in all of us who live for a better tomorrow."