We're now almost two weeks into the government shutdown, and there's been no shortage of outrage over the fact that Congress remains unable to figure out how to end it. Recent polling has shown record levels of support for replacing every member of Congress, and lawmakers are now less popular than witches and dog poop.
This level of unpopularity may not come as a surprise to anyone who's followed the actions of Congress. The shutdown, brought on late last month by House Republicans who insisted that any measure to fund the government must also delay or dismantle Obamacare, has taken a nationwide toll on federal workers and programs. With around 800,000 federal employees furloughed without pay and programs for veterans, women and children increasingly becoming hobbled by the congressional impasse, lawmakers have been more successful at upsetting the people they serve than at ending the shutdown.
Here are some of the sleaziest things members of Congress have done so far:
Grandstand at the World War II Memorial.
The government shutdown threatened to ruin the plans of a group of World War II veterans who had traveled to their memorial on the National Mall on Oct. 1. When confronted with barriers indicating that the area had been closed off to the public due to the shutdown, the veterans, along with some members of Congress, reportedly barged through and defied the order. For the next two days, members of Congress — most of them Republicans — flocked down to the World War II memorial to partake in photo ops and the resulting media frenzy. The lawmakers promised to fight for the elderly veterans and make sure that they could have access to their memorial, even though they were at fault for closing it in the first place.
There has since been some confusion as to who is allowed to visit the World War II Memorial and who isn't. The area was recently opened for First Amendment activities only. Demonstrators, including key shutdown architect Sen. Ted Cruz (R-Texas) and former Alaska Gov. Sarah Palin (R), joined a veteran-led rally at the memorial over the weekend, where they protested the Mall closures and marched to the White House. Amid "Impeach Obama" signs and confederate flags, a tea party speakercalled for President Barack Obama to "put down the Quran" and resign the presidency.
Berate a Park Ranger for the effects of the shutdown.
Rep. Randy Neugebauer (R-Texas) was among those Republicans who made his way down to the World War II Memorial in the opening days of the shutdown. When he found a Park Ranger doing her job — which, at the time, included controlling the crowd at the technically closed memorial — the congressman blamed her for the closure he had voted for, and told her she should be ashamed of herself.
Put on lab coats and chastise Democrats for not funding cancer research.
A group of House Republicans traveled to the National Institutes of Health, where they threw on lab coats and pleaded with Democrats to undo the damage the shutdown had done to services for children with cancer.
"Let us help people. Let us help children. Please," said Rep. Todd Rokita (R-Ind.), whose son suffers from a rare neurogenetic disorder.
In order to help, Republicans wanted Democrats to support a variety of smaller bills that would have funded the government a la carte, based on which programs they believed were most necessary or popular. Democrats declined the offer, insisting that Republicans come to the table with a clean bill to fund the government in its entirety, not just the parts that were upsetting the public.
Fund raise off the whole debacle.
While some lawmakers were apparently not keen to be seen fundraising amid a shutdown that had left nearly a million federal workers furloughed without pay, others adopted a "keep calm and carry on" mentality. A number of Democratsattended a fundraiser for Rep. Charlie Rangel (D-N.Y.) in the first week of the shutdown, arguing that just because the government had closed they shouldn't be expected to change their campaign schedules.
The Democratic National Committee also used the GOP's intransigence as a highly successful fundraising tool in the run-up to the shutdown. After reports showed the DNC raised nearly $850,000 in the 24 hours before the shutdown began, Republicans like Rep. David Schweikert (R-Ariz.) accused Democrats of having pushed a shutdown simply to bring in donations. The congressman would later send out an email of his own, in which he attempted to raise funds off his allegations that Democrats were fundraising.
Rub their "nice house" in the faces of 800,000 federal employees they helped furlough.
Rep. Lee Terry (R-Neb.) has a nice house, and in an interview this month he let everyone know that it was part of the reason he wouldn't be giving up his constitutionally protected $174,000 annual salary amid the shutdown.
"I've got a nice house and a kid in college, and I'll tell you we cannot handle it," hetold the Omaha World-Herald. "Giving our paycheck away when you still worked and earned it? That's just not going to fly."
More than 100 lawmakers have decided to donate their paychecks to charity amid the shutdown, which has left hundreds of thousands of people nationwide largely without control of their economic wellbeing. Terry later apologized after his comments caused an outcry, and he said he'd have his paycheck withheld.
Tell furloughed employees they shouldn't get back pay while they're prohibited from working.
Despite voting for a measure to compensate government workers for the time they spent furloughed, Rep. Ted Yoho (R-Fla.) suggested that he felt differently at a recent town hall meeting.
A caller told Yoho that he was fine giving back pay to federal employees who continued working during the shutdown, "but the people that are home watching Netflix and whatever, I'm not sure that we should be sending them checks."
Yoho referred to the bill that passed the House unanimously in his response: "Well, when we voted on that, they were supposed to come back to work as part of that deal. I agree 100 percent with you. If they're not working, they shouldn't get paid."
Suggest furloughed employees take out loans if they can't pay the bills.
For a few brief moments last week, Rep. Steve Pearce (R-N.M.) thought it would be a good idea to offer some financial advice to furloughed workers worried they might not be able to pay bills thanks to Congress. Here's his Facebook post on the matter, which was quickly taken down: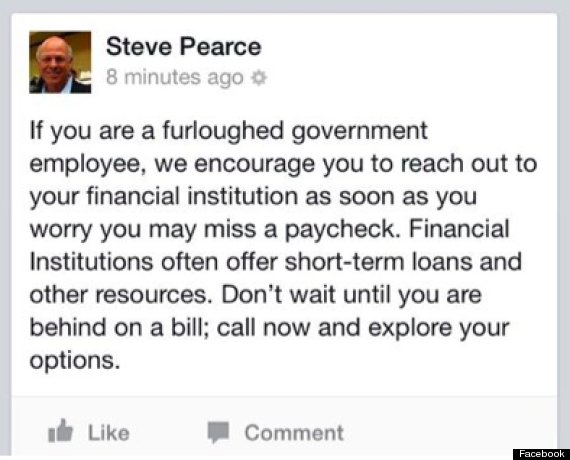 A staffer for Pearce later said that another staffer had put up the message, and that it "was in error."
Accuse the president of "curb-stomping" people.
Texas Republican and congressional troll extraordinaire Steve Stockman spent a few days during the first week of the shutdown aggressively blaming Democrats for the shutdown and all of its effects. When Obama refused Republican piecemeal proposals to refund select parts of the government, Stockman repeatedly declared that the president was "curb-stomping veterans."
Keep the congressional gym and other amenities open as essential services.
Critical government services have been slowed or shuttered by the shutdown, but don't worry, your representatives can still get in regular workouts at the congressional gym, thanks to House Speaker John Boehner's (R-Ohio) decision to keep it open.According to Think Progress, which first reported the development, the House gym comes packed with a swimming pool, basketball courts, paddleball courts, a sauna, a steam room and flat screen TVs, and taxpayers are still footing the bill for regular cleaning and maintenance, as well as electricity to keep everything running.
Lawmakers also still have access to a Capitol subway system that shuttles them the short distance between the House and Senate office buildings and the Capitol building itself.
Complain that the gym is gross and doesn't have enough towels.
Rep. Bruce Braley (D-Iowa) pointed out some real pain and suffering in a recent interview, when he deflected calls for the gym to be closed amid the shutdown by noting there weren't even clean towels in it.
"There's hardly anybody working down there. There's no towel service, we're doing our own laundry down there," he said. "And we pay a fee to belong to the House gym. So this is no different than if you're working for an employer that offers a wellness program. You pay a fee to belong, that's what we do there."
Other lawmakers have also complained about the gyms getting disgusting with only a heavily depleted staff on hand.