CNN's Route to the Top brings the latest news to give you an edge in the job market. We'll speak to industry and management experts and business school academics, providing the latest advice on how to advance your career.
(CNN) — Marina Shifrin became an internet sensation earlier this week when she quit her job via a YouTube video that showed her dancing out of her company's office to Kayne West's hit song "Gone."
The content writer worked at Next Media Animation, a Taiwanese company that produces news videos, and had become frustrated with the lack of creativity in her role.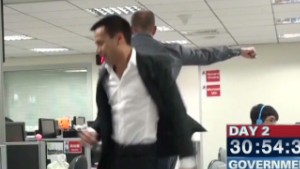 Her post has already been viewed more than 12 million times and just days later spawned a dancing video ripostefrom her former employer.
See also: What can football managers teach you about leadership
In honor of Shifrin's humorous exit video, here's a list of some of the most memorable ways people have left their jobs.
Don't hesitate to share any other great examples we may have missed in the comments section below.
Resign with a cake
What nicer way to tell your boss "I quit" by baking them a cake — especially if you're leaving to become a baker.
That's what Stansted Airport border force worker, Chris Holmes did in April this year, painstakingly icing his parting message on to a tasty looking carrot cake made with coconut, pecans, sultanas and orange butter cream.
Such a thoughtful resignation ensured Holmes left his colleagues onfriendly terms. "He leaves with our very best wishes," UK Border Force Assistant Director, Bill Form, told the BBC.
Whether Holmes cake resignation was consumed by UK border staff or stored away in a chilled filing case for HR purposes remains unclear.
Bid adieu with a brass band
A slightly more dramatic exit was delivered to bosses at the Providence Renaissance hotel in Rhode Island by worker Joey DeFrancesco.
In a YouTube video from 2011, the disgruntled employee hands his resignation letter to a confused looking superior before being played out of the building by a brass band.
"I hated them, and they hated me," DeFrancesco later told HuffPoston the subject of the hotel's management. "I knew I had to get one last shot at them."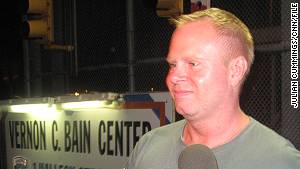 Former JetBlue flight attendant Steven Slater.
Take the emergency exit
In 2010 unruly behavior pushed Jet Blue flight attendant Steven Slater quite literally out the door.
After being rudely told where to go by a passenger who stood up too early once the plane had landed, Slater took to the in-flight intercom and, as widely reported, said "I've been in this business 20 years. And that's it, I'm done."
He then grabbed a beer, ripped off his tie and launched the plane's emergency chute before sliding down to the runway and walking to the staff parking lot.
A judge later gave Slater one year's probation for criminal mischief and reckless endangerment.
The New York Times op-ed
Goldman Sachs executive director, Greg Smith, decided to leave his high-paying post at the U.S. investment bank in 2012 via a powerfulop-ed in The New York Times.
"The corporate culture at Goldman Sachs has been transformed and deteriorated to the point where it became rotten to the core," he wrote. "Clients are viewed as mere 'muppets' who can be fleeced through the investment bank's rapacious greed."
Smith's piece was visceral and highly critical of the banking giant, but he's not the only financial executive to use the printed press to announce a resignation.
In 2008, Andrew Lahde took to the pages of the Financial Times to announce the dissolution of his company Lahde Capital Management. In the process, he tore through the likes of Bear Stearns, Lehman Brothers and AIG, with less than flattering words for their fellow staff.