Barcelona star and his father Jorge are accused of evading €4.2m in tax on earnings from personal endorsements
Most defendants in multimillion-euro fraud cases turn up to court ashen-faced and sullen-looking. But when you're the world's greatest footballer, things are a little different. Lionel Messi was greeted outside a courthouse in Barcelona on Friday by adoring fans, who shouted their support for him.
The Barcelona and Argentina star and his father, Jorge, are accused of defrauding the state of €4.2m (£3.5m). They were questioned on Friday in a closed session in a court in Gava, Barcelona, the wealthy neighbourhood in which Messi has a home. Spanish state prosecutors say the two evaded €4.2m in tax on earnings from personal endorsements from his principal sponsors, Adidas, PepsiCo, Procter & Gamble and a number of other companies.
Jorge Messi told the court that his son knew nothing of any alleged financial wrongdoing, and that there had been no intention to defraud, according to sources in the court. The defence's case is that Messi only ever concentrated on playing football, and that his father took care of financial affairs. It is understood that the family's lawyers hope to have the case dropped against Messi himself, or at least to reduce any potential sentence.
"The Messi family has always wanted to act with transparency, clarity and to collaborate [with the court], and it was the same today," said their lawyer, Cristóbal Martell, outside the courthouse.
The prosecution alleges that they set up shell companies in Uruguay and Belize to avoid paying tax in Spain. Both men deny the charges, saying that the deals were made without their knowledge by Messi's former agent, Rodolfo Schinocca. The alleged crimes took place between 2007 and 2009. Schinocca denies any involvement, saying he was no longer working for Messi at that point.
In an effort to come to a deal, Jorge and Lionel Messi paid back €5m (£4.2m) to the Spanish state in August, made up of the money owed for the alleged avoidance of tax and interest accrued on it. They also paid €10m (£8.4m) in back taxes owed for 2010-2011. Messi and his father have always denied wrongdoing, saying in a previous statement: "We have always fulfilled our tax obligations following the advice of our tax consultants who will take care of clarifying this situation."
Messi arrived at the court house in a white Audi, wearing a suit but no tie, and was accompanied by shouts of support from scores of his fans, who had turned up to see the star. There was the occasional cry of "thief!", but these were mostly drowned out by Barcelona supporters who had come to try to take a photo of their favourite player. Messi gave a brief thumbs up to his fans as he left. No date has been set for any further court appearances.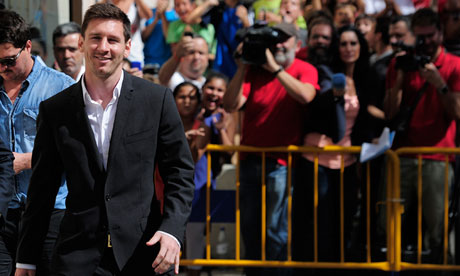 Lionel Messi leaves the court in Gava, Barcelona. Photograph: Josep Lago/AFP/Getty Images
The allegations are the first time Messi's previously golden image has been tarnished in any way. He came to Barcelona from Argentina as a young boy, overcoming childhood growth problems to become one of the most famous and wealthy sportsmen in the world.
Earlier this week, Messi, 26, scored again for Barcelona, as he does almost every game, taking his total to an extraordinary 323 goals in 387 appearances, and he is well on his way to becoming the highest goalscorer in the history of the game. Messi earns around €16m (£13.4m) a year just from his contract with Barcelona, with millions more in endorsements.
With so much money swilling around in the coffers of European football, the top teams have made their remuneration packages increasingly complicated, allowing the clubs and players to exploit their image rights, and creating multiple opportunities to avoid paying taxes. It is an increasingly common practice for leading footballers to set up image rights companies in low-tax countries, through which they are paid their additional sponsorship salaries, thus avoiding the duty they might pay at home.
Between them, the 20 clubs of the Spanish La Liga owe at least €690m (£580m) in unpaid taxes, but Spanish authorities are reluctant to pursue them, as no politician wants to be seen as having caused a club to go bankrupt. But with unemployment at 26%, the tax agency is beginning to investigate players with increasing assiduousness, bringing cases against former players Rivaldo and Luis Figo.
The allegations against Messi have not provoked widespread public anger. According to Spain's leading sports writer, Santiago Segurola, "in Spain, footballers are sacred, and the public will always pardon their sins, so long as they keep scoring goals … the majority of Spaniards privately try to cheat the tax man. It makes up part of our legendary picaresque national character, and our weak culture of solidarity."
According to Andrés Gil, editor-in-chief of the news website eldiario.es, this is because football still provides a kind of "anaesthetic against all the problems in Spain, the financial crisis, the political corruption … People love football. There might be laws for everyone, but they don't always apply equally to everyone. The Messi case certainly hasn't generated the indignation it might have done."
For years, cheating the tax man was practically a national sport in Spain, with large and small businesses often choosing to be paid in cash, creating a huge, unmonitored hidden economy. But, as the crisis has torn a hole in the national budget, the government has tried to crack down, with little effect. The number of tax inspections made in person last year was 15,700, up from around 8,700 in 2011. According to the tax agency, 40% of cases were found to be suspicious. Government
studies
suggest that Spain's shadow economy is worth around 23% of GDP, and despite its best efforts, has grown as the crisis deepens.