The Obama administration's plans to strike at Syria lost its most important foreign ally tonight when the British government said it would not take part in any military action against Syria for its suspected use of chemical weapons.
The announcement by British Defense Secretary Philip Hammond came after Prime Minister David Cameron was defeated in the House of Commons when he put it to a vote.
Cameron said it was clear that Parliament did not want to see British military action.
"I get that and the government will act accordingly," the prime minister said.
That means the United States could be facing the real prospect of being forced to go it alone in any strike on Syria.
Senior U.S. officials tell ABC News that if President Obama decides to strike Syria he is willing to act alone. This stands in contrast to less than a week ago when senior officials were saying the United States would not intervene in Syria alone, and instead they would be acting with a broad coalition of allies.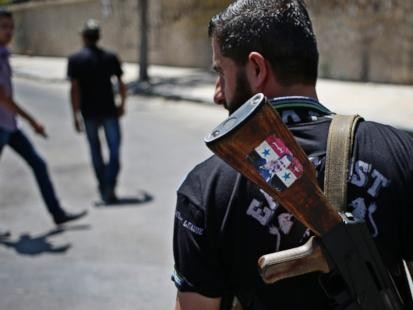 Britain's decision to stand down came hours after Syrian President Bashar al-Assad defiantly vowed to "defend [Syria] in the face of any aggression."
Also, the U.N. team of chemical weapons inspectors prepared to wrap up its mission. After four days of field visits, the U.N. team will leave Syria on Saturday, which means a U.S.-led military strike on the Syrian regime could come as early as Saturday afternoon.
"The threats of direct aggression against Syria will only increase our commitment to our deep-rooted principles and the independent will of our people," Syrian state TV quoted Assad as saying.
"Syria will defend itself in the face of any aggression," he said.
This morning, the U.N. team was seen heading to the eastern suburbs of Damascus to spend a third day at the sites of last week's massacre.
The U.N.'s special envoy to Syria, Lakhdar Brahimi, said the team on the ground had already concluded that a "chemical substance" was used to kill hundreds of people in Syria. In accordance with the mission's mandate, Brahimi did not place blame on either the regime or the opposition.
In Washington, the Obama administration indicated it may release its promised intelligence report Saturday in a bid to publicly justify military action against the Syrian regime.
Describing the report, administration officials said there was no "silver bullet" directly linking Assad to the chemical weapons attack, but U.S. officials believe there is sufficient evidence to pin the attack on the regime.
State Department spokeswoman, Marie Harf told reporters on Wednesday that there was no doubt that the regime was responsible for the attack.
"Let's be clear here that based on multiple independent streams of information widely available that again I will say the only logical conclusion is that the Assad regime itself was responsible for the use of chemical weapons in this attack. Period."
Harf continued, "The commander-in-chief of any military is ultimately responsible for decisions made under their leadership… even if… he's not the one that pushes the button or said, 'Go,' on this."