Her hair was perfectly styled, thanks to the attentions of her personal stylist.
She had applied her customary black eyeliner, her cheeks glowed with good health – and her smile threatened to outshine the hundreds of flashbulbs on the pavement outside.
But for the mothers watching around the world as the Duchess of Cambridge walked out on to the steps of the Lindo Wing yesterday, the real delight was her 'mummy tummy'.
See the snaps of William and Kate leaving the hospital with their new son
That neat bump was the only thing which gave away the fact Kate had given birth to an 8lb 6oz boy just a day earlier.
And the glowing duchess clearly felt no need to hide it, a decision praised immediately by mothers' groups.
Netmums founder Siobhan Freegard said the duchess had dispelled the 'myth that all mothers should be perfect postpartum'.
"In a couple of minutes on the steps of the Lindo Wing Kate has done more for new mums' self-esteem than any other role model," she said.
"Sadly, too many celebrities often have ultra-fast tummy tucks or strap themselves down to emerge in tiny size six jeans, leaving everyone else feeling inadequate.
"Kate shows what a real mum looks like – and natural is beautiful.
"Undoubtedly over the coming weeks the duchess will work hard to regain her figure, but tonight she's proved herself a healthy role model for real mums around the world."
Many mothers took to Mumsnet to share their delight, describing Kate as a "role model" for showing off her mummy tummy.
One user wrote: "Oh just so lovely?…?I think she is fantastically brave to not hide her post birth shape. What a great role model she is."
A second wrote: "I loved that Kate didn't hide her remaining bump. That is what a postnatal woman looks like folks!"
Another added: "They both looked fab, and I was also impressed that she didn't hide the belly, good for her!"
Indeed, the general agreement last night was that the Duchess of Cambridge looked
"utterly fabulous" as she presented her new son to the world.
Kate, whose style over the last nine months has already become a by-word for pregnancy chic, did not disappoint with her choice of dress. Her bespoke blue polka-dot Jenny Packham frock looked cool and chic, its empire line cut perfectly displaying her "mummy tummy".
Check out Kate Middleton's chic pregnancy style in the gallery below: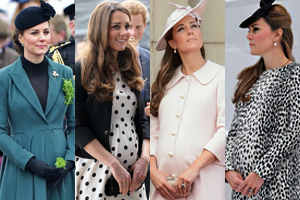 Her choice of print seemed to be a nod to the dress worn by Princess Diana on the day she left hospital with Prince William in 1982.
She posed on the same steps with her first-born son, wearing a green polka dot dress.
But where Diana appeared nervous and bewildered by the attention – and was said to have burst into tears as soon as she got in the car – the radiant duchess smiled broadly and spoke assuredly to the ranks of camera crews.
And while Charles wore a formal pinstripe suit and tie, William opted for a casual shirt, the blue perfectly matching his wife's dress.
And, naturally for this very hands-on new father, the sleeves were rolled up.