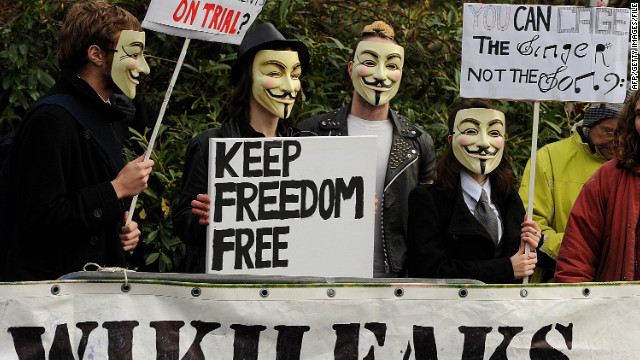 Supporters of WikiLeaks founder Julian Assange gather in southeast London in February 2011.
STORY HIGHLIGHTS
WikiLeaks begins releasing what it says is a cache of documents from Stratfor
The private intelligence company has been targeted by hackers in recent months
The authenticity of the documents could not be immediately confirmed
(CNN) — The website WikiLeaks has begun releasing what it says are 5 million e-mails from the private intelligence company Stratfor, starting with a company "glossary" that features unflattering descriptions of U.S. government agencies.
In a statement released early Monday in Europe (Sunday evening ET), the website promises a raft of juicy disclosures about Stratfor, a Texas-based firm that promotes itself to corporate and government clients as a source of intelligence on international affairs. The company has been targeted by hackers who have released private data about subscribers in recent months, prompting the company to offer its clients a year of paid identity-protection coverage.
There was no immediate comment on the disclosures from Stratfor, and the authenticity of the documents could not be independently confirmed Sunday night.
WikiLeaks, a website that facilitates the leaking of confidential information, says the documents will be released through a network of more than 25 news outlets and activist groups in the coming weeks. The first document out was titled "The Stratfor Glossary of Useful, Baffling and Strange Intelligence Terms," featuring brief and sometimes humorous definitions and blunt assessments of U.S. intelligence and law enforcement.
Others focused on speculation about the health of Venezuelan President Hugo Chavez and who was behind a suspected campaign of sabotage against Iran's nuclear program.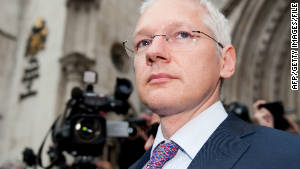 WikiLeaks has previously published hundreds of thousands of U.S. military and State Department documents, including field reports from the Iraq and Afghanistan and embassy cables that feature the candid assessments of U.S. diplomats. A U.S. soldier, Pfc. Bradley Manning, faces a court-martial on charges that he leaked the documents to the website.
WikiLeaks founder Julian Assange, meanwhile, is in Britain battling an extradition request from prosecutors in Sweden who want to question him about unrelated accusations of sexual assault. Assange has not been charged with a crime and denies wrongdoing.